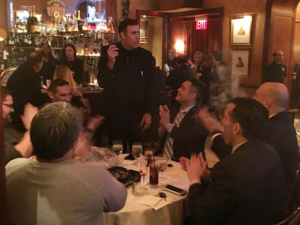 RESTAURANT MAGIC - Share laughs and makes memories with your guests.
With the pandemic out of the way, having a Magic Night once a week can give your customers something to look forward to for their guests and family. He comes to your A.I.D.E. (Attracts, Interacts, Distracts, Enhances). Let Lou come to your restaurant for FREE the first night to show you why Club Macando Cigar Lounge, J.A. Heneghan's, Don Miguel Cafe, P.J. Harper's, and Cinnelli's have used Magic Night to add fun and marketing magic to their brand.
Text Lou for details. 516-978-7735
Lou Johnson - is Prime Time and Ready! After all, Lou has plenty of film and TV experience (click on Videos to see his work on THE TODAY SHOW and a commercial with HUGH JACKMAN).
Enjoy plenty of FUN with the WOW factor for your guests with cards, coins, rope, handkerchiefs, and juggling objects.
Award-winning and versatile, Lou's creative magic plays BIG! While others say no, Lou is just getting warmed up.  Contact Lou for all the details.