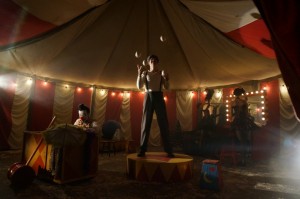 Lou Johnson has not only appeared acting in film and television as a juggler and magician - with enigmatic eyes and a 6'6" stature, he is also a compelling presence as an actor. He recently collaborated with television personality Genevieve Gorder on her new ulive.com original series, A Well Designed Life, and was featured in episodes of Mysteries at the Museum on the Travel Channel. (Look for the TALL guy!)
Lou was a recent guest also on The Today Show with Kathy Lee Gifford and Hoda Kotbe, and has appeared on MTV, the Discovery Channel, and ID Channel.
Strategically incorporating a full array of props including sound, background, and lighting sets, Lou Johnson IS the entertainer who does it all! He also networks with several accomplished colleagues within the variety arts, an essential component for larger entertainment packages. From circus and sideshow to mentalists and illusionists, Lou can incorporate a specific network of entertainers into his appearances at events, festivals, and parties.
.
.
Youtube Acting Videos
Headshots
To see Lou Johnson's Headshots please view his Headshot Gallery page.
Talent agencies & Directors looking to hire Lou Johnson please contact David McDermott for further information http://www.jgdtalent.com